Collaborative Relationship Between Wisconsin County Veterans Service Officers and KWW/CF and Heat for Heroes Continues to Grow
County Veterans Service Officers and Heat for Heroes bridge for Veterans struggling to meet their basic survival needs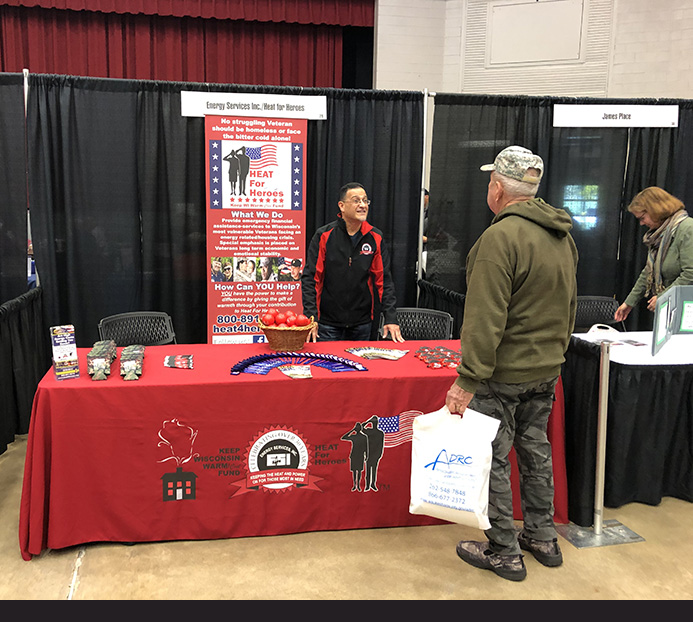 Booths such as the one pictured above staffed by Noel Ayala of Heat for Heroes, help get information on vital assistance out to those Veterans in need.
Faced with the possibility of living in homelessness, a military veteran and family in Douglas County recently became one of the thousands of America's heroes that Heat for Heroes has supported with life-changing assistance.
---
Having used up all savings and taking a leave of absence from work to care for their spouse, who was suffering from a rare illness, and children, the veteran was unable to afford utility and rent payments. But, with the intervention of Douglas County Veterans Service Officer Brian Erickson and Heat for Heroes, the family no longer had to worry, as a collaborative effort between multiple entities covered the expenses.
"The veterans' spouse had just returned home from the hospital in time for a family Thanksgiving, and they can now take their worries off of the rent and utilities and concentrate on the spouse's healing process," Erickson said. "Heat for Heroes was one of the supporting organizations to make this happen … this program helps change lives and is vital to our continued support."
The veteran is just one example of dozens over the years who have relied on Heat for Heroes' support throughout Wisconsin. Since its inception, the organization has aided more than 20,000 of Wisconsin's veterans and their families
Its success in reaching so many of America's heroes is because of tight-knit collaborations throughout the state, such as the ones the organization has with County Veterans Service Officers around the state, Heat for Heroes Executive Director Tim Bruer said.
"Many people don't really recognize that on a grassroots, local level, county VSOs are really the advocate for that veteran with special needs, or those in need of information," Bruer said. "County VSOs are at the forefront of action taken to keep veterans safely in their homes and respond to other special needs that exist that would otherwise go unmet, especially those with physical disabilities, and especially those with mental health challenges brought on by their service to our country."
Erickson, a U.S. Marine Corps veteran and former U.S. Navy reservist, is one of 72 CVSOs in Wisconsin, in addition to 11 Tribal Veterans Service Officers. He said he found out about Heat for Heroes while working with Douglas County Energy Assistance. A veteran in the area was in need of assistance paying a utility bill, or risk having his utilities shut off. Erickson connected the veteran with the organization, and the rest was history.
"Whether it be a one-time need to help keep a veteran in his or her home, or helping with the heat during the cold winter months, Heat for Heroes has worked extremely well in helping veterans in our area with assistance during critical times," Erickson said.
Bruer said CVSOs and TVSOs stationed across Wisconsin help Heat for Heroes by identifying veterans and families in need and referring them for assistance. It's a partnership that has so far accomplished its mission of serving those who served.
"We would never be able to establish the largest survival safety net for veterans in Wisconsin and in the country without the active support and involvement of County VSOs," Bruer said.
Since 2016, Heat for Heroes' claims assistance increased from 10 cases to 75 in 2018 in Douglas County alone, a number Erickson said he is proud to play a role in boosting.
"It is extremely important to have a strong working relationship with the organizations and groups who are in your area," Erickson said. "We help each other out either by providing the necessary resources or passing the referral to another entity.
"Together, we solve problems by coming up with solutions."